Join our PA Academy
1 interactive high quality webinar of 1.5 hours every week, including lifetime access to the recordings that you have paid for

Various topics discussed, like technical knowledge, mindset & mental game, performance and career consulting

Get coached by TheWakko, Adam Carmichael, Schyllae, Sunni_92, AAFORALIVING, Floesoe, and many more, including various guest appearances

Be part of a great network of like-minded players to build your own team

Not satisfied? You can easily cancel your subscription

Earn up to €67 discount off your next payment cycle with our monthly Community Leaderboard!

Extra - Get up to €20 extra monthly discount by attending the live webinars
(€5 discount per webinar)
Join the Academy
Choose whatever plan fits you best and get access to the Academy straight away.
Weekly Live Webinar
Attend the weekly 1,5 hour webinar and interact live with our coaches.
Continue later
Don't worry, you can always return and login
to continue watching the recordings later.
Week 21 - wed 25 may (18:00 CEST)
#41 - Technical webinar
by Descartes
In this Academy Webinar our coach Descartes will tell you all about Understanding Delay C-betting SRP IP.


Week 22 - Thu 2 June (18:00 CEsT)
#42 - Technical webinar
by Schyllae
In this Academy Webinar our coach Schyllae will share all his technical knowledge. The final topic will be released here soon.


Week 23 - wed 8 june (14:00 CEST)
#43 - Mindset webinar
by Adam Carmichael
In this Academy Webinar our coach Adam Carmichael will tell you all about How To Cultivate More Consistency So You Achieve Your Goals.


Who is the PA Academy for
Cash game players

Playing between 10-200NL online and up to 5/5 live

Aspiring poker players, who are taking the game serious and want to reach the next level

Those who want to get excited about poker and learn at the same time

Get connected with our coaches and other players in our exclusive community

Learn from the coaches who have followed the same road as you do

What is included?

Made by our team of expert Cash game coaches, click here to see them.
Once subscribed, you will have lifetime access to the recordings that you have paid for and last week's recording for monthly subscriptions and last month's recording for 3-month subscription plans.

Previous webinars can be purchased with 50% discount.
Accessible coaching prices
Get access to at least 4 webinars per month for a way cheaper price than you pay for regular coaching. Earn extra discount if you attend the webinars live.


The complete story
Technical knowledge is only half of what makes you excel in your poker career. We also provide you with mental game and career consulting webinars as well.


High quality content
All our coaches have proven to beat the stakes that you are currently playing and higher. Making them a good fit to show you the way.


Interactive and tailor made
We strive to shape our content around the communities pain points and hands as much as possible.
Like-minded community
The bigger the team, the more important the team. Next to the coaches, expand your team with like-minded players who are on the same mission.


Community leaderboard
Engage in our exclusive community and easily get rewarded with discounts up to 70% on your next monthly payment cycle.

After joining the Academy you will...
Have all the tools that are necessary to take your game to the next level

Be part of a great network of aspiring poker players

Have a place to go for feedback on your hands from our coaches and fellow members

Have a good and educative time

Be excited to continuously improve your technical game and your mindset & performance skills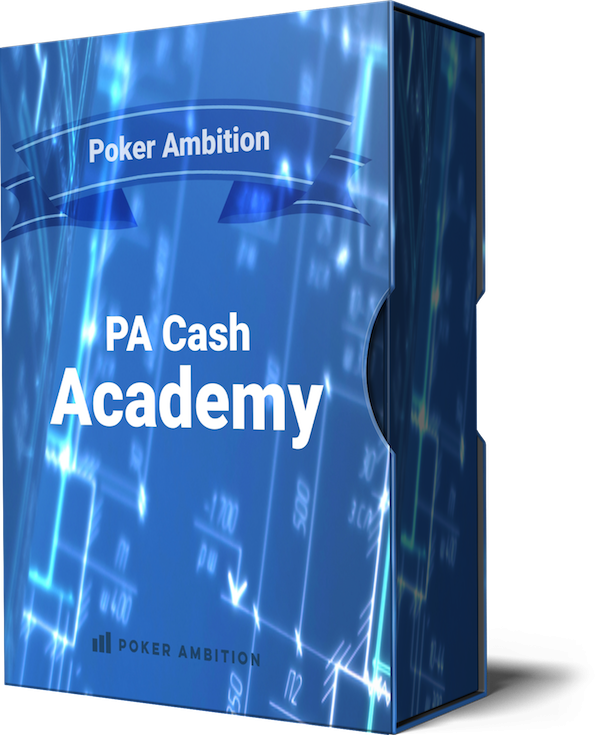 Meet our Cash Academy coaches
TheWakko
Rene, our technical Head coach and high stakes cash game player, has a great passion and talent for looking at poker from all angles. Last year, he went into 'The Lab' and dedicated all his time to figure out what poker success comes down to. He transformed that into our philosophy, which he will be happy to teach you. Nowadays he is back on the poker streets, grinding his way back to the highest stakes of poker.
Adam Carmichael
Mindset & Performance coach
Adam is a former high stakes poker player who now coaches players to reach their full potential. His hands on experience, coupled with his degree in Sports Science and his obsession with behavioural psychology, has lead Adam to discover unique approaches which will turn you into he ultimate peak performer.
Floesoe
MID stakes cash game (500-2KNL)
Floesoe is also one of our former CFP students who made an insane progress while being under the wings of our Headcoach TheWakko. As he entered on 100NL, he now plays cash from 500 to 2KNL. Also, he regularly plays MTTs in which he had some very nice scores already. Floesoe is the perfect example of a coach who have followed the some road as you are on now. For sure, you'll learn a lot from him.
321letitrip
MID stakes cash game (500-2KNL)
321letitrip have been an online poker professional ever since 2004 already. Currently he is playing around 2/3 of his volume on 500NL, with maximum stakes up to 2KNL. After quitting his athletic career, he does everything within his power to combine all the time that is needed to keep winning at online poker in 2022 with being healthy, exercise enough and staying (mentally) fit.
megalodoNkk
MID stakes cash game (500-2KNL)
MegalodoNkk is an enthusiastic mid stakes player who is very flexible, curious and open-minded about the game. He just loves the game very much. Besides, he is very grateful for all that poker has brought into his life and he is happy for the opportunity to help others achieve their goals with his role as Academy coach.
AAFORALIVING
MID-HIGH stakes cash game (500-3KNL)
Our Academy coach AAFORALIVING is tired to play midstakes for a living. So, he decided to give his best shot to reach as high as he can. He will definitely help you along climbing up the stakes in your poker career as well.
Descartes
MID stakes cash game (500-2KNL)
Descartes is a professional player with a passion for the study of poker and his lifestyle for over a decade. With extensive experience in other fields as a teacher, Descartes combines his technical and pedagogical experience when teaching students. Today's day most of the volume of it is played in midstakes.
b.a.angelov
MID stakes cash game (500-2KNL)
Boris (b.a.angelov) Angelov is a 24 year old poker player from Sofia, Bulgaria, currently finishing his bachelor in economics and finance in Milan, Italy. He started playing poker in 2017, spending his first year playing solely live 1/2 and 2/5, while starting his bachelor's degree remotely. His online poker career started in Jan 2018 from NL5z, climbing the stakes and started taking shots at 200z after 7 months. Currently he plays 500-2knl, with 500z being his main stake, with average volume of 100k hands a month.
El_Pr3dator
Mid stakes cash game (200-500NL online - up to 2KNL live)
Our Academy coach El_Pr3dator is a well known Spanish poker player, playing both online and live. He started his poker career around 6 years ago, mainly focusing on NLH Cash and once in a while some tournaments. Recently, he played on a
TV-table in Madrid
with Raul Mestree (founder of Educa Poker Academy) and other well known Spanish players. His all time favorite poker player was, and still is, Tom Dwan.
Pitabread189
Mid stakes cash game (200-1KNL)
Our Academy coach Pitabread189 is a 28 year old Canadian who started playing poker from freerolls. In the past 10 years he has played almost every game type and stakes, both live and online, as well as staked players. He also ran a game, and made poker content on YouTube.
Schyllae
Mid stakes cash game (1KNL)
Our Academy Coach Matte is a 25 year old poker player from Argentina. He played a bit live before the pandemic, and really got into online poker during the many lock-downs. For over 2 years now he breathed, slept and thought about poker, resulting in him playing on the streets at 1K NL.
Frequently asked questions
What types of poker does the Academy cover?
The provided poker content in the PA Academy will be mainly for Cash game players. We will provide knowledge in all areas: Technical, Mindset, Mental game & Performance and Soft skills & Management.
Why should I join the Poker Ambition Academy?
We've figured out exactly what you want and most importantly what you need to excel as an aspiring poker player. Often, we see a mismatch in this, resulting in mediocre courses and products. Joining the PA Academy is the perfect start to get in touch with our proven philosophy.

On top of that, every month we will also host our PA Academy homegames, in which you can win discounts and free access to the products of Poker Ambition and of our partners.
When are the live webinars and who will be hosting them?
Every week we will be hosting one live online session by one of our
expert coaches
.

One week the webinar will be given on Wednesday and the next week on Thursday, all of them at 18:00 CEST except the one from our Mindset & Performance coach Adam which will be at 14:00 CEST. The sessions will be recorded and can be watched in our online platform afterwards.
What if I miss a live webinar?
No worries at all. We will record all sessions and upload these within 48 hours to the online course environment. All purchased webinars will remain accessible forever, as long as you still have an account with us. So, you will also have access to the webinars that you've purchased after you cancelled your subscription.
Do I get access to all previous recordings?
With a monthly plan you will only get access to last week's recordings and the ones that you have paid for. With a 3-month plan you will get access to all last month's recordings and the ones that you have paid for.
In case you are interested in watching previous webinar recordings, you can purchase them with a 50% discount (only for Academy members). In the learning path at ''Recording Library'' you can find more information on this.
Can I subscribe to the Academy in the middle of the month?
Yes, you can subscribe at any day of the month without missing content. From the moment your subscription starts you will get access to the latest recordings and, as long as you stay subscribed, to all upcoming webinars.
Can I try it before buying? Is there a trial period?
We don't offer a trial period for our Academy subscription. If you are in doubt about joining you can start without any commitment by enrolling to a single webinar.
How can I cancel my membership for the Academy?
Although we don't like to see you leaving, we find it important that you can easily cancel your subscription with us. Keep in mind that you need to cancel your membership before it will be automatically renewed. Depending on your subscription plan, this will be every month or every 3 months, on the date of purchase. Once you have cancelled your membership it will remain active until the end of the subscription period. The exact expiry date can always be found in ''Your Account''.
In our
Support Center
we explain step by step how to cancel the membership in your User Account.
What payment methods do you use?
For our Academy subscription plans we only accept Visa, Mastercard and American Express payments from customers worldwide. Every month the subscription fee will be automatically debited from your credit card.

For the single webinars we also offer payments via PayPal, iDeal and Sofort.