Week 52 - THU 30 december (18:00 cet)
Reflection & New Year Goal Setting
by TheWakko
In this Academy Webinar our head coach TheWakko will take you on a reflection for the past year and he will look forward to next year, helping you with your New Year goals.

Week 52 - THU 30 december (18:00 cet)
Reflection & New Year Goal Setting webinar
by TheWakko
In this Academy Webinar our head coach TheWakko will take you on a reflection for the past year and he will look forward to next year, helping you with your New Year goals.
Register for Webinar
Click on the button above to get access to this single webinar.
Receive an invite link
After registration you will receive an invite link for the Webinar in your inbox.
Continue later
Don't worry, you can always return and login
to continue watching the recording later.
TheWakko
Rene, our technical Head coach and high stakes cash game player, has a great passion and talent for looking at poker from all angles. Last year, he went into 'The Lab' and dedicated all his time to figure out what poker success comes down to. He transformed that into our philosophy, which he will be happy to teach you. Nowadays he is back on the poker streets, grinding his way back to the highest stakes of poker.
Who is this Webinar for
Cash game players

Playing between 10-200NL online and up to 5/5 live

Aspiring poker players, who are taking the game serious and want to reach the next level

Those who want to get excited about poker and learn at the same time

Get connected with our coaches and other players in our exclusive community

Learn from the coaches who have followed the same road as you do

After joining the Academy you will..
Have all the tools that are necessary to take your game to the next level

Be part of a great network of aspiring poker players

Have a place to go for feedback on your hands from our coaches and fellow members

Have a good and educative time

Be excited to continuously improve your technical game and your mindset & performance skills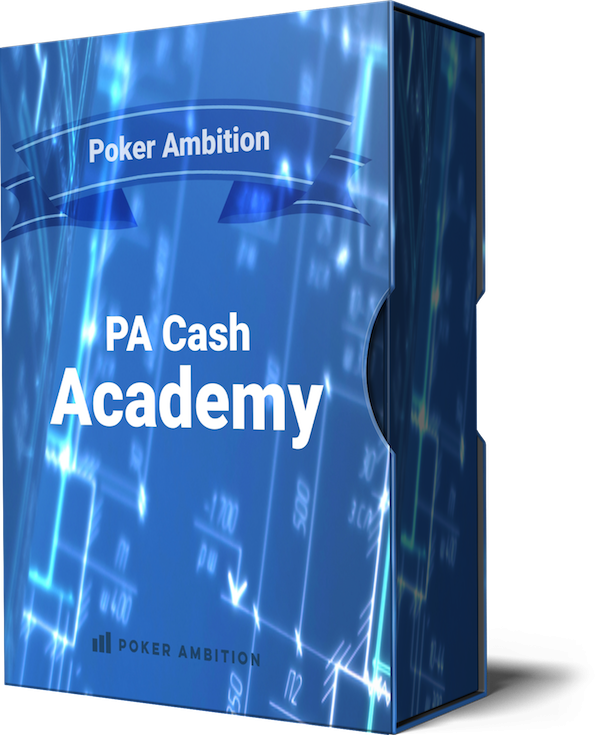 Frequently asked questions
What types of poker does the Academy cover?
The provided poker content in the PA Academy will be mainly for Cash game players. We will provide knowledge in all areas: Technical, Mindset, Mental game & Performance and Soft skills & Management.
Why should I join the Poker Ambition Academy?
We've figured out exactly what you want and most importantly what you need to excel as an aspiring poker player. Often, we see a mismatch in this, resulting in mediocre courses and products. Joining the PA Academy is the perfect start to get in touch with our proven philosophy.

On top of that, every month we will also host our PA Academy homegames, in which you can win discounts and free access to the products of Poker Ambition and of our partners.
When are the live webinars and who will be hosting them?
Every week we will be hosting one live online session by one of our expert coaches.

One week the webinar will be given on Wednesday and the next week on Thursday, all of them at 18:00 CEST except the one from our Mindset & Performance coach Adam which will be at 14:00 CEST. The sessions will be recorded and can be watched in our online platform afterwards.
What if I miss a live webinar?
No worries at all. We will record all sessions and upload these within 48 hours to the online course environment.
Single purchased webinars will remain accessible forever, whereas the recordings for subscription plans remain available for one month.

Can I subscribe to the Academy in the middle of the month?
Yes, you can subscribe at any day of the month without missing content. From the moment your subscription starts you will get access to the latest recordings and, as long as you stay subscribed, to all upcoming webinars.
Can I try it before buying? Is there a trial period?
We don't offer a trial period for our Academy subscription. If you are in doubt about joining you can start without any commitment by enrolling to a single webinar.
How can I cancel my membership for the Academy?
Although we don't like to see you leaving, we find it important that you can easily cancel your subscription with us. Keep in mind that you need to cancel your membership before it will be automatically renewed. Depending on your subscription plan, this will be every month or every 3 months, on the date of purchase. Once you have cancelled your membership it will remain active until the end of the subscription period. The exact expiry date can always be found in ''Your Account''.
In our
Support Center
we explain step by step how to cancel the membership in your User Account.
What payment methods do you use?
For our Academy subscription plans we only accept Visa, Mastercard and American Express payments from customers worldwide. Every month the subscription fee will be automatically debited from your credit card.

For the single webinars we also offer payments via PayPal, iDeal and Sofort.
Sign up for this Webinar!